Pope Francis Offers Clear Guidance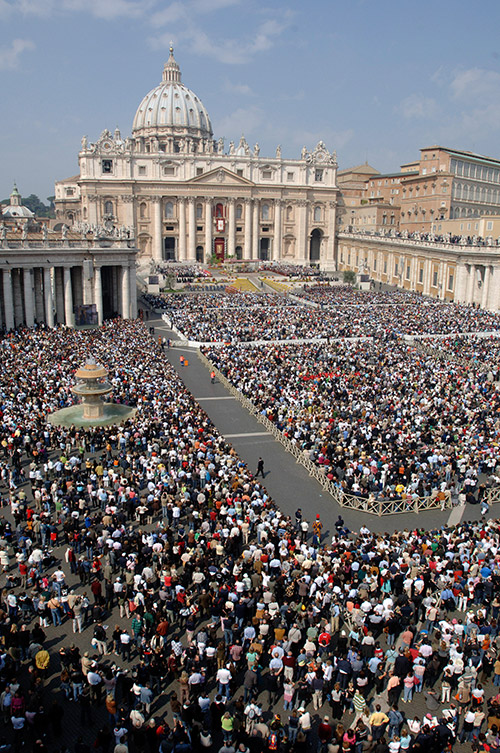 On Sunday, March 5, 2017, Pope Francis spoke to a gathering of people within St. Peter's Square and follows:
"Christians should care about reading God's messages in the Bible as much as they care about checking messages on their cellphones, what would happen if we turned back when we forget it, if we opened it more times a day, if we read the messages of God contained in the Bible the way we read messages on our cellphones? The Bible contains the word of God, which is always relevant and effective. What would happen if we treated the Bible like we treated our cellphones?"
Pope Francis correctly recognized that most everyone has a cellphone as a necessary part of life. The Pope asked 2.2 billion Christians a probing question, "What if they carried a Bible with them, and depended on it, like they carry and depend on their cellphones?"
The exciting news is the entire King James Bible narrated by Alexander Scourby can be downloaded right to believer's cellphones and now available for instant access anytime and anywhere. Believers can download a Bible app for iPhone or Android phone. The Bible App has studio quality audio and features no other Bible App offers, including text and audio synced. Each Bible verse is put into its own Mp3 file. Each Mp3 file is searchable. Users can build custom playlists and share Bible verse with family and friends. This Bible App is best on the market. Alexander Scourby is regarded as the "Voice of the Bible".
To answer Pope Francis's question, "What would happen if we treated the Bible like our cellphones?" Probably change the World!
Utilize this Bible App on your mobile phone to experience the Bible in a whole new way. Share your favorite Bible Verse with Pope Francis and tell Pope Francis you now have the KJV Bible on your cellphone. The Pope will be thrilled!
You Bible App Testimonials
Bimodal presentation is ideal. Hearing and reading at the same time is the best way to study the Bible. You Bible App syncs Bible verse with audio Bible narration. You Bible App highlights each Bible verse as Alexander Scourby reads KJV Bible verse aloud. You Bible App is a great hands-free experience.
I am telling everyone about Scourby Bible App. I love how I can listen to one Bible Verse or many Bible Verse, for 30 minutes or extended play for 8 hours. This Bible App is a real faith builder for me, "Faith cometh by hearing". I am renewing my mind with this Bible App daily. I love the Bible App's audio speed selector, to speed up the narration or narrate slowly. Alexander Scourby is by far the best Bible narrator helping me to deeply hear the Word of God, the way it should be heard. Thank you for this great product and may God continue to bless you.
You Bible App offers a "sharing" feature and is a Bible verse feature I use a lot. I'm always finding a nice inspiring Bible verse to share with family and friends. I get a lot of great comments each time I share Bible verse.