Fox 8 Local First Scourby You Bible App No 1 by 700 Club News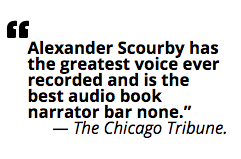 What really sets this app apart from all the rests are two things.
(1) The Apps unparalleled features like the custom playlists, being able to share Bible Verses with family and friends, and the full search engine. Having each Bible verses in it's own mp3 files permits users to extract any verse and put it into a custom playlist. Within the playlist users can then rearrange the Bible verses in any order they so choose. When the user hits the play button the Bible App will then play the verse back with with text and audio synced together. We found no other app with that feature.
(2) What really makes this the best app on the market is the unparalleled narration by Alexander Scourby of the King James Bible. There is simply no better narrator in the entire world. The Chicago Tribune was exactly right, Alexander Scourby has the greatest voice ever recorded. This is certainly a five-star Bible App coupled with a five-star Bible narration and that's why it gets our number 1 ranking."
http://www.fox8live.com/story/37811806/scourby-you-bible-app-no-1-by-700-club-news
Download Today and Start Experiencing the Bible in a Whole New Way
Download Bible Electronic Bible, Daily Bible Verses,bible study apps, Bible verses ,Alexander Scourby, bible app, Bible Verse of the day, Daily Bible Verses, Online bibl,e audio bible, bible study apps, online Bible Study, King James Study Bible, Daily Bible Verses,
Best Bible Study app, Bible Study app tools ,Alexander Scourby, holy bible app, bible study apps, audio bible offline, audio bible app, kjv bible app, KJv Bible online, Bible app for Android, bible study apps, Bible App for IPhone, bible study apps,