King James Version Bible App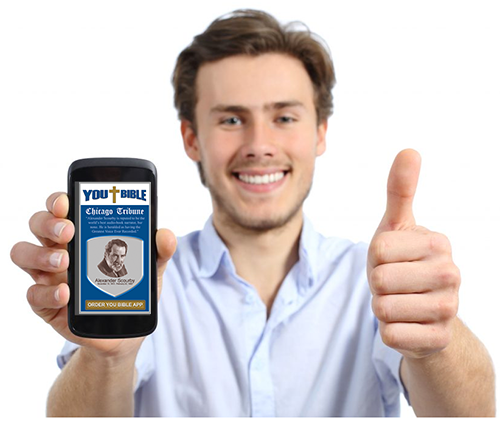 The King James Bible was first published in 1611. However, William Tyndale translated the first Bible into English in 1526. At the time, it was a crime punishable by death to translate the Latin Bible into English. Not only did Tyndale translate the Bible into English, he also published and distribute it all over England an Martin Luther helped him. In 1535 he was betrayed by a friend and in 1536 was burned at the stake for translating the Bible into English. His last words were, "Lord, Open the eyes of the King of England".
Below is a 28-minute video about the Story of the King James Bible and another short video about why the King James Bible is still the best. These two videos will give you a new appreciation for the Greatest Book ever recorded.
From 1611 to 2007, if you wanted to read the Bible you would have to pick up a Bible and read it just like they did in 1611. However, with the advent of smart phones and applications for those smart phones, in 2007 the King James Bible App was first offered on the iTunes Store. Later when the Android Smart phone was created, a King James Bible App was created for the Android Phone as well. Now you can read it and hear Alexander Scourby narrate the King James Bible for you at the same time. Studies have shown that when you read and hear at the same time, it increases both your understanding, comprehension and memory of the Book.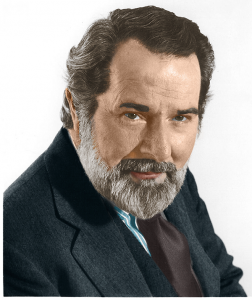 The KJV Bible App is Narrated by Alexander Scourby, who the Chicago Tribune said has the Greatest voice ever recorded. His narration of the King James Bible App is regarded as the very best narration in the world. Listen to samples of his recording on the home page and see if you agree with Chicago Tribune. If you do, then Download the King James Bible either as a Bible app or Audio Bible Mp3 download. Get it to today and start accessing the Bible in a whole new way.
Story of the King James Bible
Why the KJV Bible is the Best
Bible App Features
[fusion_images picture_size="auto" hover_type="zoomin" autoplay="yes" columns="6" column_spacing="13" scroll_items="1" show_nav="yes" mouse_scroll="no" border="no" lightbox="yes" hide_on_mobile="small-visibility,medium-visibility,large-visibility" class="" id=""][fusion_image image="https://www.scourby.com/wp-content/uploads/2017/07/bible-app-3001.png" image_id="12316" link="https://www.scourby.com/wp-content/uploads/2017/07/bible-app-3001.png" linktarget="_self" alt="bible-app-features" /][fusion_image image="https://www.scourby.com/wp-content/uploads/2017/07/bible-app-3002.png" image_id="" link="" linktarget="_self" alt="bible-app-features" /][fusion_image image="https://www.scourby.com/wp-content/uploads/2017/07/bible-app-3017.png" image_id="" link="" linktarget="_self" alt="bible-app-features" /][fusion_image image="https://www.scourby.com/wp-content/uploads/2017/07/bible-app-3016.png" image_id="" link="" linktarget="_self" alt="" /][fusion_image image="https://www.scourby.com/wp-content/uploads/2017/07/bible-app-3015.png" image_id="" link="" linktarget="_self" alt="" /][fusion_image image="https://www.scourby.com/wp-content/uploads/2017/07/bible-app-3014.png" image_id="" link="" linktarget="_self" alt="" /][fusion_image image="https://www.scourby.com/wp-content/uploads/2017/07/bible-app-3013.png" image_id="" link="" linktarget="_self" alt="" /][fusion_image image="https://www.scourby.com/wp-content/uploads/2017/07/bible-app-3012.png" image_id="" link="" linktarget="_self" alt="" /][fusion_image image="https://www.scourby.com/wp-content/uploads/2017/07/bible-app-3011.png" image_id="" link="" linktarget="_self" alt="" /][fusion_image image="https://www.scourby.com/wp-content/uploads/2017/07/bible-app-3010.png" image_id="" link="" linktarget="_self" alt="" /][fusion_image image="https://www.scourby.com/wp-content/uploads/2017/07/bible-app-3009.png" image_id="" link="" linktarget="_self" alt="" /][fusion_image image="https://www.scourby.com/wp-content/uploads/2017/07/bible-app-3008.png" image_id="" link="" linktarget="_self" alt="" /][fusion_image image="https://www.scourby.com/wp-content/uploads/2017/07/bible-app-3007.png" image_id="" link="" linktarget="_self" alt="" /][fusion_image image="https://www.scourby.com/wp-content/uploads/2017/07/bible-app-3006.png" image_id="" link="" linktarget="_self" alt="" /][fusion_image image="https://www.scourby.com/wp-content/uploads/2017/07/bible-app-3005.png" image_id="" link="" linktarget="_self" alt="" /][fusion_image image="https://www.scourby.com/wp-content/uploads/2017/07/bible-app-3004.png" image_id="" link="" linktarget="_self" alt="" /][fusion_image image="https://www.scourby.com/wp-content/uploads/2017/07/bible-app-3003.png" image_id="" link="" linktarget="_self" alt="" /][/fusion_images][fusion_button link="https://store5.esellerate.net/store/checkout/CustomLayout.aspx?s=STR5285241159&pc=&page=OnePageCatalog.htm" title="Bible App Narrated By Alexander Scourby" target="_blank" alignment="center" modal="" hide_on_mobile="small-visibility,medium-visibility,large-visibility" class="" id="" color="default" button_gradient_top_color="" button_gradient_bottom_color="" button_gradient_top_color_hover="" button_gradient_bottom_color_hover="" accent_color="" accent_hover_color="" type="3d" bevel_color="" border_width="" size="xlarge" stretch="yes" shape="" icon="" icon_position="left" icon_divider="no" animation_type="" animation_direction="left" animation_speed="0.3" animation_offset=""]Download Bible App[/fusion_button][fusion_separator style_type="none" hide_on_mobile="small-visibility,medium-visibility,large-visibility" class="" id="" sep_color="" top_margin="" bottom_margin="0px" border_size="0" icon="" icon_circle="" icon_circle_color="" width="" alignment="center" /]
Download Bible Electronic Bible, Daily Bible Verses,bible study apps, Bible verses ,Alexander Scourby, bible app, Bible Verse of the day, Daily Bible Verses, Online bibl,e audio bible, bible study apps, online Bible Study, King James Study Bible, Daily Bible Verses,Best Bible Study app, Bible Study app tools ,Alexander Scourby, holy bible app, bible study apps, audio bible offline, audio bible app, kjv bible app, KJv Bible online, Bible app for Android, bible study apps, Bible App for IPhone, bible study apps,