Although it's a daunting task, we've put together some of the very best Bible-based apps; some of them you've probably tried, but hopefully you'll discover a few gems that you've never heard of before now. We readily admit there are many other great apps out there, so if you have a favorite we've missed, feel free to let us and our readers know about it in the comments section.
Our Winner: Scourby YouBible
"The value of the app is worth more than the device cost"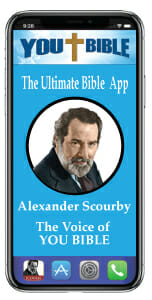 Platform: Android; iOS: iPhone, iPad, iPod touch
File Size: 1.10GB Seller: Litchfield Associates Ltd, Inc.
Cost: $19.99
For the very best Audio Bible, you just can't get any better than Alexander Scourby. His rich articulation and animated grasp of each verse have made it a classic for decades. The Scourby YouBible offers the entire set for $19.99. Although this seems outrageous for an app, you've got to remember that not too long ago the CD sets sold for a hundred. This app offers custom playlists so that you can listen to only Scripture that addresses a specific need. For those who take advantage of this app, you're likely to find that the value of the app is worth more than the device cost. It's truly priceless.
Download Today and Start Experiencing the Bible in a Whole New Way
Download Bible Electronic Bible, Daily Bible Verses,bible study apps, Bible verses ,Alexander Scourby, bible app, Bible Verse of the day, Daily Bible Verses, Online bibl,e audio bible, bible study apps, online Bible Study, King James Study Bible, Daily Bible Verses,
Best Bible Study app, Bible Study app tools ,Alexander Scourby, holy bible app, bible study apps, audio bible offline, audio bible app, kjv bible app, KJv Bible online, Bible app for Android, bible study apps, Bible App for IPhone, bible study apps,